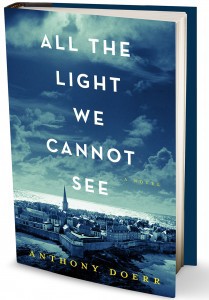 There's no question that Tony Doerr is one of our most lyrical and thoughtful writers. If you haven't read any of his work, I highly recommend his two collections of stories as a good place to start:
The Shell Collector (Scribner, 2001)
I just finished his award winning new novel All the Light We Cannot See last night. I stayed up late reading in bed to finish the final 100 pages. The novel weaves two young people's stories together during World War II. Werner is a young German orphan genius with a penchant for radio tweaking and communications hacking. Marie-Laure is a blind French girl whose father is the lock master in a museum in Paris. Both young people must deal with the utter horror of that war of wars, and the reader must go through the grueling trials and tribulations with them. We know it is inevitable that they meet. A great deal is inevitable in any story about Europe in that period of history.
Doerr is that rare writer here in 21st century America who is smart, informed, willing to grapple with modern issues, but also profound, deep and touching in the old-school way that helped guide so many of us into the world of reading when we were young. All the Light We Cannot See is no exception. It's a story that can be appreciated by everyone from a 14-year-old social misfit to a 92-year-old grandparent. Imagine if your favorite science teacher growing up married your favorite english teacher and they had a baby that each taught everything they know. That baby all growed up is Tony Doerr. All the Light We Cannot See, like his first novel, About Grace, proves my point.
If you are struggling to find a gift for someone you respect, you can't go wrong with any book by Anthony Doerr. I highly recommend buying a hardback copy of any of his work. These are volumes of fiction people will want to go back to over and over.
Related articles
---
Also published on Medium.