I discovered the hashtag #rockfiction about a month ago when I stumbled onto the Behind Blue Eyes website: http://behindblueeyes.ca/
Anne-Marie Klein is the author of a series of rock 'n' roll Behind Blue Eyes novels that trace the development of the fictitious young musician, Ian Harrington's climb toward success during the 1970s heyday of popular music. Remember those days when Rock was King? Remember Don Kirshner's Rock Concert? Blue Oyster Cult? Peter Frampton? Deep Purple?  Three Dog Night? 
Those were the days when The Who was moving into the stratosphere. They'd already arrived through Tommy, but then they pushed the envelope and came out with Live at Leeds (1970), Who's Next (1971), Quadrophenia (1973), The Who by Numbers (1975), Who Are You (1978) and The Kids Are Alright (1979).
I saw them in 1976 in a mash of people right in front of the stage at Portland Coliseum. Those were the days before mosh pits, but that's what we were in. I remember Peter Townshend and Roger Daltrey looking down at us while they vamped and strutted around the stage, aghast at our physical mass muscling each other around, pushing, bouncing off each other, pogoing up and down. They'd already seen a death earlier in the year when fans outside Denver Coliseum had broken through a glass door and stormed the facility. Keith Moon would die two years later. That night I saw them, he was in classic drunken form by the last third of the concert, jumping on his drumset, falling on the stage, clowning with Daltrey in the middle of songs and never losing his connection to the beat coming out of all of us.
Anne-Marie's Behind Blue Eyes is inspired by The Who's song of the same name that truly is an anthem of some sort out of that era. As crazed and beyond control as so many of us were, that song carries with it a reminder of the sadness and misunderstanding of our youth, knowing it was all going away. To me, it also spoke of the loneliness each of us feels being inside our minds, holding in our beautiful sorrows and humble dark thoughts.
The novels by this name do a great job at recreating that period of time in rock's history. They center on Toronto (where Klein is from), but they also pay attention to the struggles of that era as musicians tried to climb out of their old jalopies onto the super sonic transports that now carry them worldwide as the pinnacle of global media culture.
I heartily recommend checking out Anne-Marie's series. I recall those days and friends who were master musicians working desperately to get a leg up in the music industry. Just like them, characters in the Behind Blue Eyesbooks battle drugs, alcohol, egos, and bandmates. They also stumble around seeking love and carrying personal demons with them wherever they wake up.
My own rock novel, Beyond the Will of God, is ultimately inspired by the same strong connection Anne-Marie Klein feels to those days gone by where so many of us passed from youth into adulthood. Songs like "Behind Blue Eyes" were the soundtracks of everything we did as we moved through the '80s and '90s. I also remember turning that song up loud driving to work. I remember Todd Rundgren's "Hello, It's Me" doing crazy things to my heart back in those days of Reagan, IBM, Michael Jackson, and Magic & Larry.
Go peruse Anne-Marie's site and buy her books — even if you were born after 1980. Also, check out her section called "The Backstory." She just published the backstory to Beyond the Will of God. You really need to read it. But you should also check out all the other backstories on that page.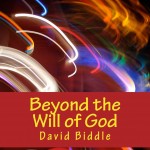 Rock fiction is a real genre. It offers whiffs of magic, enlightenment, love, sex, drama, and intrigue. And all the while on center stage is the music and the beat. What a grand invention rock 'n' roll is. It is our best way as a culture to celebrate the joy and wonder of being alive in the world with all our foibles and pain.
-dcb
Related articles