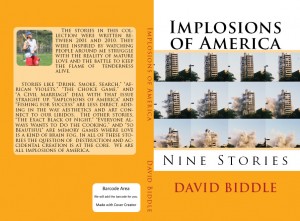 My latest collection of nine stories needs reviewers and thoughtful readers to blog about it. I can't get the book posted to any major indie distribution site without at least five reviews. I've got two right now. Check them out here.
These are not happily-ever-after stories. They are not simple, nor are they normal. I've been told they are very much like New Yorker stories, but I hope not. New Yorker stories don't seem to be about love as a form of insanity. They are more about love as an urge or sign post.
Implosions of America is about love as a confusion after you've lived with it so long that you have trouble seeing it as something that carries much meaning. Implosions are thought-through explosions, controlled, contemplated, algebraically determined. Implosions are explosions planned so as not to damage anything near by. But they do. No matter how well planned, an implosion leaves rubble in its place and, eventually, an emptiness. Once you reach your late 40s the inevitability of imploding becomes almost a game.
If you read these stories, you may get mad at me; you may wonder if I intended for them to be depressing (nope) or that I imply inevitable defeat for all of us by the time we're in our 50s (nope). They are all from a male perspective. You may feel that's not for you. But if you give them a chance you will hopefully find this perspective is different than most fiction asking you to move into the male mind.
You can buy this book just by clicking the cover on the right frame of this website or the image at the top of this blog post. It's available in paperback and digital formats. It won't take you very long to read. Nine stories in about 130 pages is something to manage in a week of going to bed half an hour early.
Leave comments and questions for me here. I promise to respond and answer quickly. You may want to know about Angeline and Wendell. I certainly would like to hear what you think I thought I was doing. I have my own notion of what they're all about. But read the book first. And, if you have the gumption, shoot off a review so that I can get it posted to these increasingly picky indie websites. I think those stories deserve it. I hope you do too.
-dcb