I want to share some thoughts on what I read this summer, just so you know what writers do with all that spare time they have. At the end of this essay I also report on some of the stuff I have been working on.
This was my first summer being an empty nest writer. For the record, half of what writers do is read each other's work. That's probably why the job seems so great every once in a while.
My goodness, there is so much brilliant literature coming out these days — particularly by women. Beginning in July, I stumbled into all sorts of work by Renata Adler, Joy Williams, Cesar Aira, Shirley Jackson, Elena Ferrante, Mat Johnson, Lucia Berlin, Roxane Gay, and  Clarice Lispector (she who barks at God, see photo above). All of these folks are pushing language and literature forward. We worry, right?, about the notion that fiction is coming to rest on the surface of the toilet waters of the world. Not so. You just have to keep looking for them that knows how to float around the room. They're out there. I was smitten in particular with Aira, Lispector, and Renata Adler.
Last week, I finished Jeffrey Eugenides's Middlesex.  Its true virtue is that it tells an extended, multi-generational family saga about Greek immigrants in Detroit. The whole hermaphro-dendrite question it poses in order to make it famous is more like a cherry on top (or bottom).
You will find my quick review of Anthony Doerr's All the Light We Cannot See below this post. I was reading it as the summer began (seems so long ago). I also read in about three sittings John Green's Paper Towns. I have to say, of the three Green novels I've read, Paper Towns was the most fun and interesting.
You may feel differently, but to my mind YA novels that involve the death of anyone central to the plot seem to me kind of lazy storytelling. I read Looking for Alaska early in the summer as well,  and The Fault in Our Stars earlier this year. They are merciless in their use of death. Yeah, I know we're all a bit freaked out by the Grim Sneaker, but don't you want to read stories where wondrous protagonists grind through the crap in life and figure out the magic of individuality and love without a gun to their heads? Paper Towns is all about an existential dilemma. Smart girls have them often. Good job, John Green, for putting that on your map of life as you see it.
With the death thing in literature on our minds, I think I want to put Stephen Chbosky's The Perks of Being a Wallflower up there as the top YA book I've encountered in the last few years. It's got sex, drugs and rock 'n' roll up front and in the center of the plot, but it's also got a truly remarkable cast of characters and lets a boy be vulnerable with no long-term negative consequences. Yay, vulnerable male characters who aren't wusses!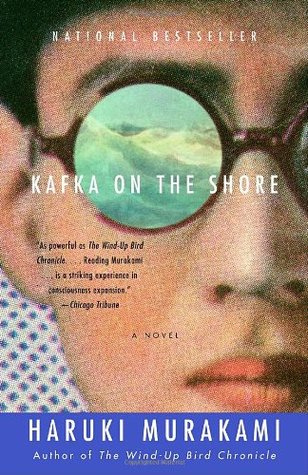 I also happily read Haruki Murakami's Kafka on the Shore in July. I'm a big Murakami fan. Some people don't like that he plays with The Big Mysterious and wields a sort of magical-realism that always feels like it's about to slide into major conspiracy theory thrillerdom. They don't like it because he kind of randomly gives us talking animals, pseudo Shamanistic philosophy, and overly sexy spiritual sex at the weirdest moments.
As I plowed through Kafka, it dawned on me that Murakami was on the edge of a truly mystical YA thang with this particular novel. The Big Mysterious was just growing and growing in so many weird ways. I'd be interested to find out what 17-year-old readers think of his story. To me, his treatment of the secret Oedipal possibilities most of us orphans live with was spot on. And the whole Being Alone game he plays is beautiful. The Guardian folks made Kafka one of their summer reading projects. They were pretty frustrated with the experience. I feel bad for people who don't get certain popular and important novels and writers. I'm sure Murakami haters feel bad for me, too. What can I say? I spent six years of my life trying to face down The Big Mysterious. It's a beast and a half.
Speaking of popular and important novels, besides finally reading To Kill a Mockingbird this year (at the ripe, middling age of 57) I am reading right now its doppelganger companion shadow, Go Set a Watchman. I find it strange (and hilarious) that so many people decided this summer that the book sucked before they'd even read it.
I was also, and still am, amazed that readers and reviewers have been freaking out about Big Daddy Atticus Finch showing his racist southern gentleman's soul in Watchman. As a mixed race kid who grew up on the edge of the Mason-Dixon line in the 1960s, the struggle that Scout goes through realizing her father's and potential fiancé's prejudices are real rings so loud and true to me.
In fact, as a very proud half-breed mongrel American, these days I struggle with modern racism as it pools up everywhere — in every color, voice, and religion I know of. It's quite natural and realistic that Harper Lee would have originally given Atticus segregatory tendencies. It's okay! Take a deep breath and remember that Gregory Peck at least was not, most likely, a racist. He was actually a kind of a ballsy liberal (in the day when liberals had 'em). So we have that, and no one can take it away from us!
One thing about Watchman that I keep thinking about is the difference between racism based on hatred and racism based on ignorance. They are not the same — not back in the '50s and not here in the 21st century. I am grateful to Harper Lee for illustrating that distinction.
The real power and brilliance of Mockingbird is the depiction of a pugnacious young Scout who is a non-conformist and burgeoning feminist. It is weird that people don't talk more about that same thing in discussions about Watchman. The feminist issue is so obvious. It has to be the primary reason Lee put pen to paper in the first place. Back when she first got rolling with the Maycomb County of her mind, women's rights and civil rights were both part of the same problem. It shouldn't matter if you read her now or you read her back in the '60s, those two problems are still intertwined. Watchman may not be another Mockingbird, but so what? Harper Lee is a great pioneering author. She deserves our respect and our open minds. It's a story about a proto-feminist grappling with the troubling and very personal nature of racism. Pretty worthy of a thumbs up if you ask me.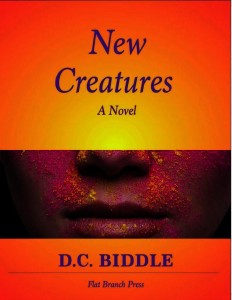 Lastly, let me say that even with all my summer reading I worked (struggled, really) through to the end of writing the first full draft of a young adult coming-of-age novel. That was, in total, 22 months of trying to light fires in my brain and then get them quickly onto the page. The working title for the project has been New Creatures. I finally finished the last of 56 chapters last week.
I never wanted to write a novel about teens. It seemed like such a pandering thing to do. A bit of that admittedly priggish mentality will be explained in an essay I wrote for TalkingWriting.com that will be posted there in the next few weeks. I don't want to steal it's thunder, so you're just going to have to wait. It was shocking, though, when the first line of that story came to me in November of 2013. I was equally as shocked when I came to the end of the story last week. You never think you're going to make it when you're trying to write a novel.
This fall I will move on to agent and publisher queries for New Creatures. The story came about because I'd been reading stories about gender and sexual identity over the past year or so (for something completely different). This is probably 97% true: many of the novels and movies out there on that type of thing are dark, brooding, depressing, and really painful. I wanted to write something more positive. I also wanted to write something from an outsider's perspective. Kind of in the vein of Nick Carraway telling the story of Jay Gatsby, but also telling the story of so much more. I think I did a good job of that. New Creatures is narrated by 15-year-old Ivy Scattergood. Her cousin, Rita Scattergood, is the Jay Gatsby of New Creatures. However, rest assured, Rita does not die, nor is she an egotistical schmuck.
If you're interested, you can find a Reader's First Draft of this project at Wattpad and at Tablo. I'm in the middle of serializing posts of the full 56 chapters. Read it now, though, because I'm taking down all but the first five chapters by early October.
You may well have to register with those two platforms to do your reading. I highly recommend that. There's a lot of free reading to be had at those sites. Wattpad is kind of YA-oriented (and driven by teenage writers). Tablo is a bit more for mature readers (and writers). Tablo is also designed to be a smartphone platform. Check it out.
Reading indie stories is like watching indie films: it's weird, it's bold, it's sometimes amateurish, but it can also be enlightening and refreshing as hell. You know you want to do it! Mainstream art of all kinds is a bit predictable. Why eat Big Macs all the time when you can have a lamb and apple burger with caramelized onions and fried peppers made in someone's kitchen just for you?
If you've read this far, I love you. But I imagine you guessed that already. Mwaaah!
Let me just say at the end here that I also managed to take two drafts of some rather lascivious writing about onanism and the meaning of life (or lack thereof) and put them into near publishable form. I'll be working on them this fall. They're both rather good, if I'm allowed to say that. Quite illuminating, really. They'll be published pseudonymously, I'm afraid. I'm not stupid…
Read up! Life is too short.
Related articles
---
Also published on Medium.